MONITOR A PC REMOTELY WITH A SPY SOFTWARE PROGRAM
AN UNDETECTABLE PC SPYWARE PROGRAM The free FIREWORLD Controller spy software for PC is a reference in its field if you want to monitor a computer remotely, in detail and invisibly.
This spy program software for Windows allows you to monitor any PC which is connected to the Internet remotely, for example the one belonging to your husband, your wife or your children, who are disobeying the rules you have laid down for them on the use of the social networks.
Do you want answers to your questions because you suspect your wife is cheating on you?
Thanks to this free PC spy software, you will know the truth, because you can secretly remotely spy on the activity on the PC * and find out whether visits have been made to dating sites. You will also be able to hack a Facebook or email account ** using the integrated Keylogger that records everything that is typed, including passwords, but also using the integrated password recovery program.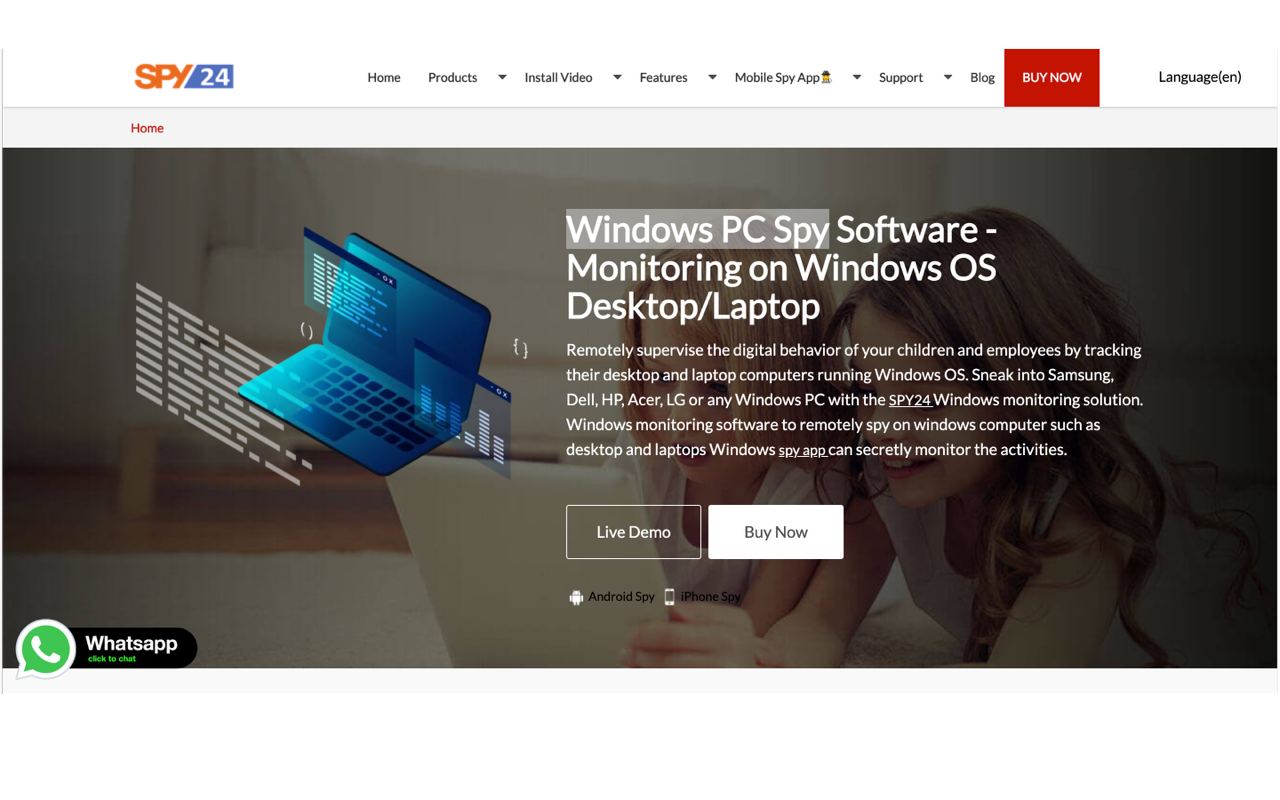 Unfaithfulness in a relationship can be very hard to take. But first we must make sure that it's actually happening and that it's not simply our paranoia that's playing tricks on us. The best way to go about it is to use a free PC spy software program that can help you to detect infidelity.
Read the rest of this article for more information on the subject.
HOW CAN I USE FREE PC SPY SOFTWARE TO FIND OUT IF MY WIFE IS CHEATING ON ME?
If you want to find out, or if you're a woman and you have reason to believe that your husband is deceiving you, maybe you'd also like to know what's being typed on the computer keyboard?
This aspect of things is not to be neglected in collecting proof of an extramarital relationship, and fortunately the FIREWORLD Controller software is there to do it for you, to allow you to remotely control and spy on a computer free of charge.
With it, you'll also be able to see what your husband or wife are looking for online on Google, and what he or she are doing on Facebook very easily, and above all remotely, because the program enables you to see the activity on the PC you're spying on in real time.
LEARN THE TRUTH THANKS TO THE RECORDS OF THE PASSWORDS THAT HAVE BEEN TYPED ON THE KEYBOARD
FIREWORLD Controller records everything that's typed on the target computer's keyboard, through its built-in Keylogger. You will thus be able to retrieve any password remotely by simply clicking on the "Keylogger" menu on your Controller interface.
In addition, the software also provides a log of all the activity on the PC, with details of dates and times: a real gold mine for finding out whether your husband is indeed deceiving you!
And don't forget that you can also remotely hack a Facebook account ** or an email address, to discover what your wife is writing and to whom, or read all the emails she's sending and receiving with the PC you're monitoring.
But you can also keep a watch over your daughter, who's going on unsuitable websites, such as webcam dating sites with strangers, or adult sites, to get to the bottom of things and thus be able to keep an eye on her.
In addition, the FIREWORLD Controller spy software will provide live viewing of the activity on the remote PC, thus allowing you to call her to order immediately in the event of any undesirable behavior.
What better for spying on a PC remotely !
SEE WHAT MY WIFE IS DOING ON THE INTERNET
You may be wondering how to hack a Skype account, monitor instant messages such as Facebook Chat, or online forums, or find out if your son is playing video games on the computer instead of doing his homework.
Using our all-in-one spy software program is mere child's play. Everything is done with a mouse-click! This free password hacking program also allows the remote monitoring of up to 10 different PCs. And everything is done from your Controller interface, from your own computer, for example at work or from your office.
The spy keylogger software will record everything that's typed on the keyboard, including identifiers, passwords and private messages; It also allows you to know what has been typed on Gmail, Youtube, Windows Live or Messenger... Without mentioning how to hack a Facebook account remotely for free.
The installation of this free PC spy software is very simple, and is described on the website. There are also tutorial videos on how to set it up in less than 5 minutes with no prior computer knowledge required; as you see, you too can quickly become a spy!
The program will never ask you for an email address or password: it is authenticated with the unique UserID that it will create for you when it is first launched. Simply open it and you'll instantly see the activity on the PC that you're remotely monitoring; you can send it commands and access the Spy-Bot, Keylogger and Password Retriever in the PassW browsers.
It's clear that this type of software could have saved a lot of parents considerable trouble and scandal, such as the case where your friends are actually hackers on Facebook.
KEEP A WATCH ON YOUR HUSBAND WITH FREE SOFTWARE FOR SPYING ON A PC
THE BEST FREE REMOTE COMPUTER SPYING SOFTWARE
What if you suspect that your husband is spending his time on dating sites, or that your wife is really overspending on e-commerce sites, squandering all your hard-earned money, or perhaps you're wondering whether your wife is cheating on you?
Or whether your employees are visiting websites they shouldn't need to visit for professional purposes? Or are your children showing signs of interest in dangerous or violent subjects such as drugs, alcohol or suicide?
The only way to be sure of it is to use free spy software to record what they're doing on the computer, and also the websites they're visiting.
You can also hack their Facebook accounts ** or other websites, thanks to the remote password retriever, which will retrieve the identifiers saved in web browsers for you to instantly view them remotely. This works for all the common browsers such as Firefox, Chrome, Internet Explorer, Edge, etc.
MONITORING SOCIAL NETWORKS AND HACKING FACEBOOK **
Do you have the feeling that your son or daughter are surfing on Facebook in an inappropriate manner? Or that your son or daughter is being cyber-harassed by classmates, or contacting predators or ill-intentioned people who could manipulate him or her into doing highly undesirable things like drinking alcohol, smoking or dealing in drugs, stealing from stores or vandalizing property? Or maybe he or she is trying to hack a Facebook account remotely in order to harm someone?
FIREWORLD Controller is the only software program capable of providing you with solutions to your problems and answers to your questions. It will offer you remote recording capabilities that will enable you to easily find the Facebook password to hack a computer, as well as monitor PC activity either in real time or offline so that you can view what's been going on later, when you have the time.
These records even include the searches made on Google, and the Facebook pages that have been visited.
Over to you now !
With this free PC spy software program, you can very easily monitor the activity on the computer of your choice to find out whether or not your husband or your wife is cheating on you. It also enables you to control the computer remotely and find out what your offspring is doing on the Internet. The software program is 100% invisible, and it's also free.
Click here to download FIREWORLD Controller free of charge, or click here to purchase the PRO version •
Using the product for espionage purposes is illegal and potentially exposes you to criminal penalties. It is the responsibility of the user of FIREWORLD Controller to make sure that his use of it complies with all the laws in force in his own country and with those of the country in which the software is being used. In particular, it is forbidden to use the software for purposes which may be deemed as underhanded and without the knowledge of the person executing Controller Client on his device. If you are in any doubt, consult your lawyer before using our products. Please read the Liability section for more details.
Hacking an account is illegal. If you infringe the law, you alone are responsible for your acts.